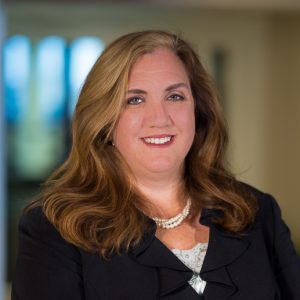 Jennifer Struble was born in Oklahoma but grew up in the mountains of Colorado, returning to Oklahoma to attend Oklahoma State University. After earning a bachelor's degree in political science with an emphasis in public administration, she went on to earn a Master's of Public Administration from the University of Oklahoma. After working in the Urban Development Department for the City of Tulsa and for a consulting company specializing in employment issues such as accessibility, harassment, and discrimination, Ms. Struble returned to school and earned her Juris Doctorate with Honors from the University of Tulsa College of Law in 2003.
Ms. Struble has practiced primarily in insurance defense covering issues such as Products Liability, Premises Liability, Employment Law, Construction Defect, Breach of Contract, Nursing Home, Personal Injury and Wrongful Death, Real Estate, Contract Interpretation, Statutory Interpretation, General Business Liability, Insurance Coverage, Bad Faith Litigation, and Professional Negligence including Attorneys, Accounting and Tax Professionals, Engineers and Architects, Counselors and Psychologists, and Medical and Dental Malpractice. Ms. Struble specializes in research and writing and appellate law.
Ms. Struble is admitted to practice in all State and Federal Courts in Oklahoma, along with the Muscogee Creek Nation, the Federal District of Colorado, the Tenth Circuit Court of Federal Appeals, and the United States Supreme Court. She is a member of the Oklahoma Bar Association, the Tulsa County Bar Association, the American Bar Association, DRI, and the Oklahoma Association of Defense Counsel. Ms. Struble has also assisted in coaching the National Trial Competition team at the University of Tulsa for the past several years.
REPORTED CASES
McClain v. Brainerd Chemical Co., 2019 OK CIV APP 15, 436 P.3d 752.
Christ's Legacy Church v. Trinity Group Architects, 2018 OK CIV APP 31, 417 P.3d 1223.
Stricklen v. O.I.P.M., L.L.C., 2017 OK CIV APP 3, 394 P.3d 290.
Calhoon v. Oakes, 2016 OK CIV APP 61, 423 P.3d 664.
Lopez v. Rollins, 2013 OK CIV APP 43, 303 P.3d 911.
Larry Snyder & Co. v. Clark Miller d/b/a Underground Utilities, 648 F.3d 1156 (10th Cir. 2011).
Cowan v. Astrue, 552 F.3d 1182 (10th Cir. 2008)
Southern Hospitality, Inc. v. Zurich American Ins. Co., 393 F.3d 1137 (10th Cir. 2004).
Langley v. Barnhart, 373 F.3d 1116 (10th Cir. 2004).