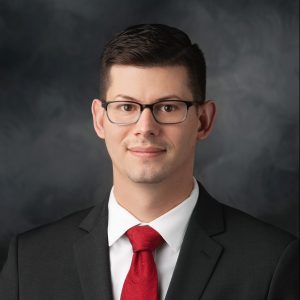 Mr. Hancock has two separate Bachelor's Degrees from Missouri Southern State University. In 2013, he graduated from the University of Tulsa College of Law with honors and earned many awards and recognitions during this time, including the Order of the Barristers, an accolade awarded to the top oral advocates of each graduating class. Following law school, Mr. Hancock joined a regional defense firm where he was provided the opportunity to work directly with clients and insurers. He has represented Fortune 500 companies as the lead defense counsel and has defended clients in multimillion-dollar lawsuits involving wrongful death, medical malpractice, construction defects, transportation and bad faith litigation. Mr. Hancock has experience as a first and second chair trial attorney. In August 2017, he joined Coffey, Senger & Woodard.
Mr. Hancock's success as an attorney has been recognized by Super Lawyers magazine, wherein he was selected as a Rising Star in the areas of Employment Law in 2016 and General Civil Litigation in 2017, 2018, 2019 and 2020.
In his spare time, he coaches middle school basketball at Cascia Hall Preparatory School and enjoys traveling the world with his wife, Ashley.
Practice areas:
-Commercial Transportation
-Employment Law
-Insurance Defense
-Construction Defect
-Premises Liability
-Personal Injury Litigation
-Bad Faith
-Medical Malpractice
Admitted to Practice:
-State of Oklahoma (2013)
-S. District Court, Eastern District of Oklahoma (2013)
-S. District Court, Western District of Oklahoma (2014)
-S. District Court, Northern District of Oklahoma (2014)
-S. Court of Appeals for the Tenth Circuit (2014)
Education:
-B.A., Political Science, Missouri Southern State University (2008)
-B.S., Political Science, Missouri Southern State University (2008)
-J.D., University of Tulsa College of Law, with honors (2013)
Affiliations:
-Oklahoma Bar Association
-Tulsa County Bar Association
-Hudson Hall Wheaton American Inns of Court, member
Honors and Awards:
-Super Lawyers Rising Star 2016 (Employment Law)
-Super Lawyers Rising Star 2017 (General Civil Litigation)
-Super Lawyers Rising Star 2018 (General Civil Litigation)
-Super Lawyers Rising Star 2019 (General Civil Litigation)
-Super Lawyers Rising Star 2020 (General Civil Litigation)
Presentations/Publications/Conferences:
-Feb. 21, 2018, Tulsa County Bar Association, CLE Panelist, "Does Discovery Facilitate Resolution"
-April 5-6, 2018, TIDA Transportation Skills Seminar